Croatia and wine go back to 5th century BC, when Greek settlers first introduced vineyards to the Croatian coast. During the War of Independence (1991-1995), many wineries and vineyards were destroyed but the winemaking industry has flourished back with excellent quality wines for you to try.
Croatian wine at a glance
Croatia is a small country but a land of diversity and its geographical rough division
into continental and coastal part can also be applied to wine making. The majority of wine is white (67%) and produced in the interior while 32% is red and produced along the coast. Rose is relatively rare.
The
continental region
produces rich fruity white wines, similar in style to the neighbouring countries - Slovenia, Austria and Hungary.
On
the coast
, Istrian wines in the north offer similar styles to those produced in neighbouring Italy, while further south production is closer to big Mediterranean-style reds.
On the islands and the Dalmatian coast local grape varieties, microclimates and the rather harsh nature of the vineyards lead to some highly individual wines, and some of Croatia's best known such as Plavac Mali.
Key facts about Croatian grapes
1. The three most planted grapes in Croatia are
Graševina
(dry aromatic white wine with apple notes, in a dry Riesling style), Malvazija Istarska (refreshing white with a spice note) and Plavac Mali (bold red with bursting dark fruits/cherries and spice). 2. The 
Red
Plavac Mali
grape, which produces the best red wines, is in fact a child of Zinfandel (aka Primitivo). So if you like Zinfandel and Primitivo, then you already like Plavac Mali. Easy. 3. Croatia's sparkling Prosecco wine comes from
Bogdanusa
, a white grape. As Northern Istria and Italian Veneto shared similarity in terroir,  Prosecco lovers should also have a look at Istrian sparkling wines.
4. Malvazija
from Istria and Posip from Korcula produce Croatia's most renowned white wines.
Four main wine regions 
Slavonia 
The most popular variety in the far Northern Eastern, Slavonia
region is
Graševina
(Welschriesling) accompanied by a range of 'international' varieties such as Chardonnay, Traminac (Gewürztraminer), Sauvignon, Pinot Gris and Rhein Riesling. Slavonian climate is cold continental and Slavonian wines are dry, fresh and lightly aromatic.
Pleševica 
The area of Pleševica is situated more to the West and is small but most definitely one of the most important spots on the Croatian wine map. It lies 30 km Southwest from the capital, Zagreb, and grows mostly Chardonnay, Graševina, Pinot blanc, Gewurztraminer, Riesling and Portugizac - the Croatian version of Beaujolais. It has continental climate but a lot of sun which makes it a home of some of the best Croatian sparkling wines, some of them made in the traditional, champagne way of making sparkling wine.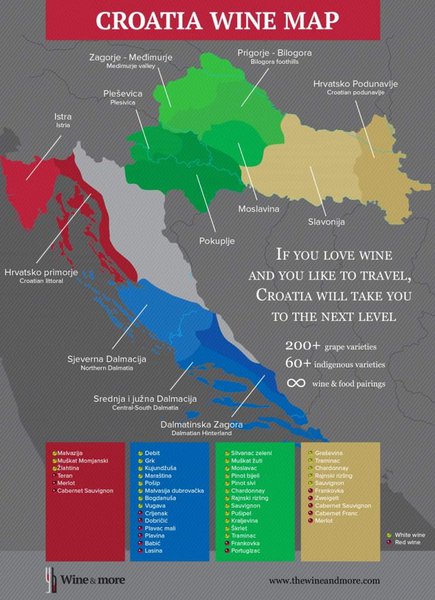 Istria
Although
Istria
is often called 'the Croatian Tuscany' and its landscape does resemble the Tuscan one, white wine and not red is what you should drink in Istria. The most popular Istrian wine is Malvazija (malvasia) but you can also enjoy the taste of Teran (terrano), Muškat (muscat), Cabernet Sauvignon or Merlot.
Dalmatia
Many of the Croatian best and most expensive wines are made in
Central and South Dalmatia
, home of almost all Croatian reds. It is also a birthplace of Plavac Mali, indigenous Croatian variety which was discovered to a the child of zinfandel (and zinfandel was discovered to be originally Croatian).
Except Plavac Mali you can taste other Croatian native wines in Dalmatia such as
babi?,
bogdanuša, grk or kujudžuša.
The Pelješac peninsula is the home of Dinga? and Postup, the first Croatian protected wine regions and the Dinga? and Postup plavac mali wines are of protected origin.
Ready for more? Explore our fantastic Croatian wine selection today.
Guest post by The Wine & More, Croatian wine specialist. 
Website:
The Wine & More
Twitter: 
@theWineAndMore