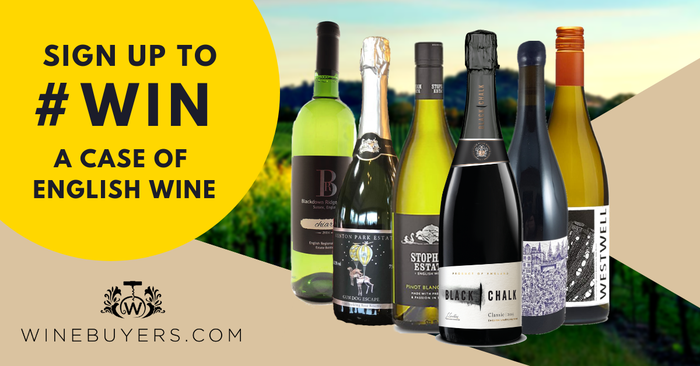 Win an English wine selection case worth £150
We are offering you a chance to win a delicious selection of award winning white, red and sparkling wines from six of our English wine producers.
In recent years the English wine industry has grown from a few determined wine enthusiasts into a globally recognised industry.
The lucky winner will receive six bottles of English wine including: Stopham Estate Pinot Blanc, Kenton Park Estate sparkling rosé, Renegade London Wine Pinot Noir, Blackdown Ridge Bacchus, Westwell fermented Ortega and Black Chalk classic sparkling cuvée
Win a taster of the very best of English vineyards with Winebuyers.
To enter the competition, simply sign up for free membership to winebuyers.com - good luck!
Sign up for free and enter the competition
Terms & Conditions: This competition is organised by Winebuyers.com and ends on 20/06/2019 midnight. Entries 18 years +. The lucky winner will be selected at random and be notified by email on the 24/06/2019 . He or she will be sent a case of wine chosen by Winebuyers in-house sommeliers. This prize has no cash value and is non-exchangeable. *Already a member? Just share our Facebook post and tag a friend before 20/06/2019 midnight. Or simply retweet our Twitter post and tag a friend before 20/06/2019 midnight. Or like our Instagram post and tag a friend before 20/06/2019 midnight.
Stopham Estate:
Six hectare vineyard located in West Sussex produces lovely and sustainable wines.
Kenton Park Estate:
Family owned vineyard in Devon producing oh-so-delicious sparkling wines.
Renegade London Wine:
East London urban winery bringing winemaking into the city.
Blackdown Ridge:
Estate vineyard in the Sussex South Downs producing quality English wines.
Westwell Wines:
Estate vineyard located on the chalk slopes at the foot of the North Downs in Kent - a route used for centuries by Pilgrims travelling to Canterbury.
Black Chalk:
Premium sparkling wine producer crafted by award-winning winemaker Jacob Leadley using grapes from Hampshire's vineyards.
What is Winebuyers?
Winebuyers is an exclusive online wine club with a simple mission: to bring wine into the 21st century.
We do this by connecting producers and wine merchants directly to the wine consumer, offering you exclusive access to over 27,000 wines from 38 countries, all in one place.
We don't mark up prices or charge commission on any items sold. Meaning you can buy wine at exactly the same price as you would from the source and get it delivered straight to your door.
We're devoted to turning you into an expert on the grape scene, so get ready to demystify the world of wine with the blogs for both the novice and the connoisseur.