Wine of the Week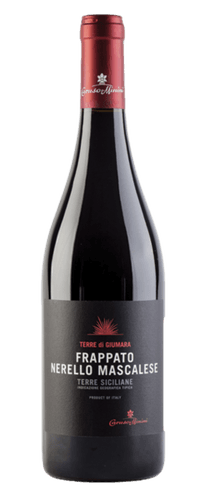 Caruso E Minini - Terre Di Giumara Frappato Nerello Mascalese Terre Siciliane Igp 2018
| | |
| --- | --- |
| Type | Red |
| Grapes | Frappato, Nerello Mascalese |
| Country/Region | Italy, Sicily |
| Food pairing | Meat, Beef, Lamb, Cheese |
| Vintage | 2018 |
| Alcohol | 13.5% |
Product number: 330965
40% off
£12.50
£7.50
Price per bottle
This product is eligible for Winebuyers Express Shipping!
Estimated delivery date:
Tue 11 - Fri 14 Oct
Dispatched from United Kingdom
The Terre di Giumara from Caruso E Minini is a proof of Sicilys ability to produce fantastic wines at affordable prices. Lighten up your dinner with this modern expression of Sicilian wine, full of character and wonderful freshness.
Terre di Giumara is made from an unusual blend of native grapes: Frappato, an aromatic variety with low tannins, and Nerello Mascalese, a thick-skinned grape renowned for producing authentic wines with fruity flavours. Together they bring structure and balance to the wine alongside a perfume reminiscent of Barolos or fine Burgundys.
On the nose, expect complex aromas of wild berries, spices, violet and herbaceous notes. Malolactic conversion combined with stainless steel tank and barrel fermentation soften the natural acidity of the wine to produce a vibrant and rich mouthfeel.
Due to its soft tannins and pleasant acidity, this wine pairs beautifully with steak, roast or lamb. It can also be enjoyed with medium-aged cheeses. Serve between 14° and 16°.
About the Vineyard
Set in a stunning century-old baglio (fortified country estate) in the heart of a traditional wine region of the province of Trapani, Caruso E Minini was founded by third generation winemaker Stefano Caruso and Mario Minini.
Working with passion for the land and respect of values and traditions, Caruso & Minini has been devoted to creating the modern expression of Sicilian wines since 2004.
The wine estate boasts 120 hectares of vines from diverse Sicilian varietals such as Nero dAvola, Grillo and Zibibbo (Muscat of Alexandria) as well as some international varieties: Cabernet Sauvignon, Chardonnay, Syrah and Merlot.
Every single grape variety has been planted following the best combination of exposure, soil and climate; while the highest hills are dedicated to the cultivation of white grapes, red varieties grow at the valley bottom.
Situated at 200-450 meters above sea level and a few kilometres away from the coast, the estate is set on alluvial soil, rich in water and organic matter.