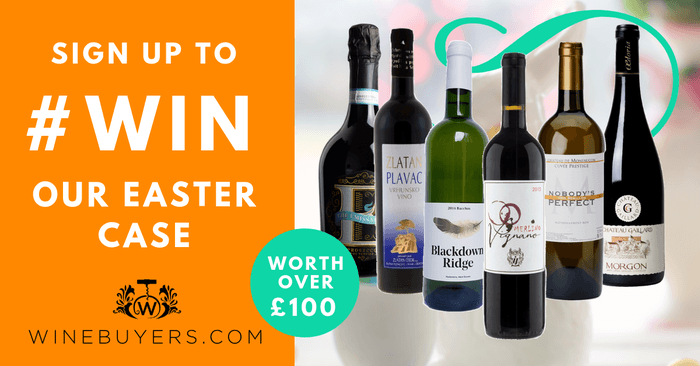 Win an Easter wine pairing case worth over £100
From starters to afters, we are offering you a chance to win a fantastic case of red, white and sparkling wine to enjoy during your Easter celebrations.
The lucky winner will receive six bottles of wine, handpicked by our in-house sommeliers to pair with a selection of scrumptious menu suggestions below.
To enter the competition, simply sign up for free membership to winebuyers.com - good luck!
Sign up for free and enter the competition
Terms & Conditions: This competition is organised by Winebuyers.com and ends on 10/04/2019 midnight. Entries 18 years +. The lucky winner will be selected at random and be notified by email on the 11/04/19. He or she will be sent a case of wine chosen by Winebuyers in-house sommeliers. This prize has no cash value and is non-exchangeable. *Already a member? Just share our Facebook post and tag a friend before 10/04/2019 midnight. Or simply retweet our Twitter post and tag a friend before 10/04/2019 midnight. Or like our Instagram post and tag a friend before 10/04/2019 midnight.
What's on the menu this Easter?
Aperitif:
Get the party started with The Emissary Prosecco and its delicious, refreshing bubbles.
Starter:
Settle down with Nobody's Perfect Sémillon Cuvée Prestige and a spiced, stewed or roasted crab salad. Citrus-based dressings with dried fruits and nuts go down a treat.
Main (Meat):
Tuck into a tantalising spring lamb served pink with fresh spring vegetables and a glass of dark fruit Plenković Zlatan Plavac. A rare Croatian red featured as one of our best buys in The Telegraph.
Main (Fish):
Enjoy a mango chutney and a steamed fish dish with a glass of Bacchus from Blackdown Ridge. Let aromas of elderflower develop.
Main (V):
Hassel-backed butternut squash with vegan (or goats) cheese pairs perfectly with the soft and smooth tannins of award-winning Merlino 2015 from Vignano.
Dessert:
Leave room for a rich chocolate sorbet and cassis compote with a glass of Chateau Gaillard's Morgon - fruity cherry and plum aromas enhance deep red fruits and chocolate flavours.
What is Winebuyers?
Winebuyers is an exclusive online wine club with a simple mission: to bring wine into the 21st century.
We do this by connecting producers and wine merchants directly to the wine consumer, offering you exclusive access to over 27,000 wines from 38 countries, all in one place.
We don't mark up prices or charge commission on any items sold. Meaning you can buy wine at exactly the same price as you would from the source and get it delivered straight to your door.
We're devoted to turning you into an expert on the grape scene, so get ready to demystify the world of wine with the blogs for both the novice and the connoisseur.