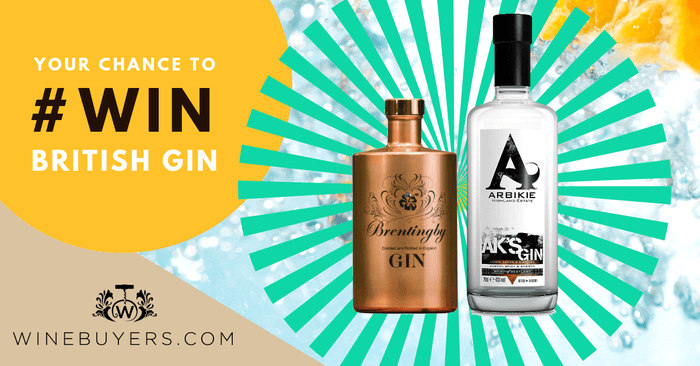 Win two bottles of handcrafted British Gin worth £80
We are offering you a chance to win two handcrafted signature dry gins from award-winning British distilleries.
Winebuyers is extremely proud to connect our members directly with innovative and creative spirits from across the British Isles, with over 80 unique bottles available direct from the distilleries themselves.
As a taster (literally) - we're giving away two mind-blowingly delicious gins - on the house.
Enter our competition to get your hands on a bottle of Brentingby London Dry Gin from Leicestershire and a bottle of AK's Arbikie Signature Gin from Angus in Scotland.
For your chance to win, simply sign up for free membership to winebuyers.com - good luck!
Sign up for free and enter the competition
Terms & Conditions: This competition is organised by Winebuyers.com and ends on 30/06/2019 midnight. Entries 18 years +. The lucky winner will be selected at random and be notified by email on the 04/07/2019 . He or she will be sent a case of wine chosen by Winebuyers in-house sommeliers. This prize has no cash value and is non-exchangeable. *Already a member? Just share our Facebook post and tag a friend before 30/06/2019 midnight. Or simply retweet our Twitter post and tag a friend before 30/06/2019 midnight. Or like our Instagram post and tag a friend before 30/06/2019 midnight.
Brentingby London Dry Gin
Brentingby London Dry Gin is a delicious juniper led, 'proper' gin. It is meticulously hand-crafted using the finest botanicals and distilled in small batches in order to ensure its consistent quality. Crisp citrus from the coriander on the nose, with zesty notes from the grapefruit and pine from the juniper. On the palate, expect juniper forward supported by coriander, liquorice, angelica and birch with a very subtle trace of hibiscus. On the finish, well sustained length of a fine dry juniper gin, with sweetness from the liquorice.
Brentingby combines contemporary with tradition to create a modern and unique true craft gin. Located near Melton Mowbray, the team aims to share its passion for locally-made and authentically produced.
Arbikie AK's Gin
AK's gin is named after Alexander Kirkwood Stirling, the father of the Stirling brothers who own Arbikie distillery. Family and friends know him as AK and his favourite flavours are honey and ginger. Thus, the name AK's gin and the main tasting notes of this gin are fresh honey and ginger. Arbikie has their own source of fresh honey on the farm, thanks to a local bee-keeper who has his hives spread across their farmland.
The Stirling family has been farming at Arbikie Highland Estate since the 1920s. They grow and harvest on the farm all ingredients they need to produce their exquisite range of gin, whisky and vodka.
What is Winebuyers?
Winebuyers is an exclusive online wine club with a simple mission: to bring wine into the 21st century.
We do this by connecting producers and wine merchants directly to the wine consumer, offering you exclusive access to over 27,000 wines from 38 countries, all in one place.
We don't mark up prices or charge commission on any items sold. Meaning you can buy wine at exactly the same price as you would from the source and get it delivered straight to your door.
We're devoted to turning you into an expert on the grape scene, so get ready to demystify the world of wine with the blogs for both the novice and the connoisseur.