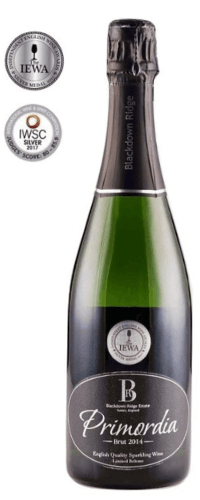 Blackdown Ridge - Primordia 2014
| | |
| --- | --- |
| Type | Sparkling |
| Grapes | Pinot Noir, Chardonnay, Pinot Meunier |
| Country/Region | United Kingdom, Sussex |
| Food pairing | Fish, Shellfish |
| Vintage | 2014 |
Product number: 290204
£75.00
Price per bottle: £25.00
Sold in cases of 3 bottles
Estimated delivery date:
Thu 28 - Mon 01 Feb
Eligible for Click & Collect
Dispatched from United Kingdom
A classic blend of Chardonnay, Pinot Noir and Pinot Meunier made using the traditional method. The wine has a persistent lively perlage and characteristic aroma. Lively, fine bubbles help to distribute this wines wonderful aromatics; lemon zest and fruity apricot notes with orchard fruit and hints of sweet pastry. On the palate is a really lively citrus quality its more lemon sherbet than lemon zest, prompting a lovely tingling sensation. Richer fruity flavours continue on the mid taste ripe apricot with juicy apple and pear. A fine mousse with those deliciously rounded fruit flavours make this a really enjoyable and smooth drinking sparkling wine, whilst that persistent sherbet lemon quality keeps it refreshing and light.
Buy today and get a free Blackdown Ridge wine bag with six bottle removable dividers.
<*Contains sulphites
Serving Suggestions
Primordia pairs extremely well with fish, seafood and white meats, etc., also wonderful for aperitifs, as well as making for some magnificent cocktails, too. A perfect accompaniment to fresh native oysters or smoked salmon on crostini.
Awards
We are very proud that Primordia 2014 has won several awards:
Silver at the Independent English Wine Awards 2017
Bronze at the UK Wine Awards 2017
Silver at the International Wines and Spirits Competition 2017
Vineyard and Winemaking
A warm and dry September meant that the 2014 vintage was one to remember! The fruit was picked and fermented individually with fermentation being carried out in stainless steel tanks using Champagne yeast strains. After malolactic fermentation the three varietals were blended to create a wine with balance and finesse. The wine was disgorged and released after 14 months on the lees.
Awards
International Wines and Spirits Competition - Silver
Independent English Wine Awards - Silver
About the Estate
Blackdown Ridge Estate sits at 440 feet above sea level in the Sussex Weald, enjoying extraordinary views over the South Downs National Park.
Here we have planted vines to create fine English wines, taking advantage of the superb location and conditions.
The wines of Blackdown Ridge Estate are the result of the vision of owner, Professor Martin Cook, who has lived on the estate for nearly 25 years. Having realised that the beautiful, serene south-facing slopes of Blackdown would be perfect for growing vines Martin was inspired to realise the potential of the estate and the first vines were planted in 2010.
The soil of the Sussex Weald shares much with the terroir of the Champagne region of France, and this influenced our plantings of the classic sparkling wine varietals: Pinot Noir, Pinot Meunier and Chardonnay. The vines planted for our range of still wines include the aromatic Bacchus for our single varietal English white wine, Triomphe for our smooth and velvety red wine, and more recently, Sauvignon Blanc.
We have 10.5 acres currently planted to vines which are nurtured throughout the growing year with an environmentally sensitive approach to viticulture that ensures optimum ripeness, yield and fruit quality.
All the wines produced at Blackdown Ridge are made from our own grapes and processed in our purpose built winery. They are matured in the bottle for at least 2 years before release. Before release our wines go through a system of independent testing and tasting, for quality and provenance, to obtain PGI (Protected Geographical Indication) or PDO (Product of Designated Origin) status.
From the very beginning, we have tried to follow a sustainable and minimalistic philosophy at Blackdown Ridge. To achieve this, we take a minimal intervention approach in the both the vineyard and the winery. Blackdown Ridge Estates purpose-built winery, with the capability to produce up to 30,000 bottles is ready for the 2020 harvest and production of our still and sparkling wines.
Each vintage allows us to learn and improve, so much so that we now are successful in both national and international competitions which allows us to measure ourselves against the very best. We are very proud of what we have achieved in so little time, but were also continually aiming to refine and exceed expectations.
Our distinctive feather branding was inspired by Goosetoff, the resident goose on our lake who has been here longer than the vines. The feather is a symbol of strength and protection but we also hope that it will represent the feeling of peace, harmony and tranquility that we have achieved here. We hope that you will agree that our new brand will look refined and sophisticated on your table from an intimate evening with your loved ones to a special event celebrating life's special moments.
We are a small but cohesive team, our ethos here is to create superb wines, spread the word about the wonderful English wine industry, and encourage visitors to spend time with us in the wonderful countryside overlooking the South Downs National Park.
You may have heard the word 'recherché' meaning refined, elegant, rare and undiscovered - well, we like to think that we have a particularly recherché selection of wines for you to explore. If you are the type of person who enjoys discovering a new hidden gem then I think you have just found one!