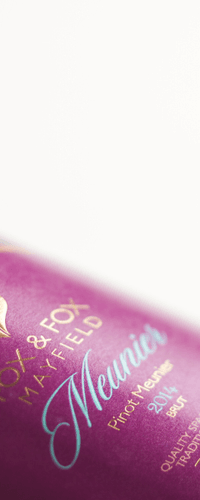 Fox & Fox - Meunier Blanc De Noirs Brut 2014
| | |
| --- | --- |
| Type | Sparkling |
| Grapes | Pinot Meunier |
| Country/Region | United Kingdom, Sussex |
| Food pairing | Fish, Shellfish |
| Vegan | ✔ |
| Vintage | 2014 |
| Alcohol | 12% |
Product number: 307718
free
Buy today and get free shipping on this product!
Currently the only English blanc de noirs from Pinot Meunier, this wine captures the black fruit romance of the grape and creates a rich, rounded wine, filled with blackberry and blueberry flavours, elegant mousse and a clean finish. Gold medals 2019
The wine has a satisfying depth and high notes of ripe apple with a nuance of peach. It is a joyous wine. A testament to our love affair with Pinot Noir dominated Fizz.
Enticing small bubbles create a rich mousse sparkling with ripe baked-apple flavours that linger. It is a beautifully rounded fizz with a satisfyingly long finish.
This is a wine that is a delight to drink and savour on its own. It goes well with traditional dishes such as braised belly of pork or baked apple desserts.
Tradition 2014 was awarded Platinum and 97 points by the Decanter World Wine Awards in 2019, the Glass of Bubbly 2018 Trophy in the Fireworks category and Gold in the Sommelier Wine Awards 2019.
Tasting notes
Lovely creamy aromas balanced with aromatic strawberry notes. Great palate of fragrant stewed strawberries, red cherry & a hint of sour rhubarb. Long, profound length, with minerality adding to the complexity. Decanter
As this was elevated to Gold in the Sommelier Wine Awards, André Luis Martins of Cavalry & Guards Club spoke glowingly of its nectarine aromas, with some gentle rosemary, too, leading to some elegant freshness and some peppery notes, and all culminating in a charming, complex finish, while Savoy Grills Matteo Cali found it rich and fragrant, with hints of toast and spice, and some red apple on the creamy palate. A true expression of English sparkling, added Heddon Street Kitchens Timothy Connor.
Technical
Tradition is our take on the classic blanc de noir style, Made with minimal intervention in the winery to let all the fruit to speak for itself, the wine has a satisfying depth and high notes of ripe apple and a nuance of peach.
Tradition drinks beautifully on its own and is a wine with good aging potential. It is a good example of the top quality innovative wines that are being made by the creative team at Fox & Fox, at their two vineyards at Mayfield in East Sussex.
Vintage: 2014
Winemaking: Traditional Method | Steel tank & Bottle Fermentation | Un-filtered
Cépage:
Single vineyard: Lakestreet Vineyard
Time on lees:
Disgorged: tbc
Dosage:
Clones: Dijon/Burgundy clones selected for flavour
Soil: Clay loam and greensand over sandstone with ironstone shale beds
Aspect: South-south West | Slope 3% to 22%
Microclimate: Sheltered plateau with sloped margin, open, sunny, protected from wind by topography and woodlands
Elevation: 79.80. to 88.97m
Awards: Platinum: Decanter World Wine Awards 2019
About The Vineyard
At Fox & Fox we are a Boutique Grower Producer of English Sparkling wines, cultivating 30 acres of classic champagne varieties. Our Vineyards sit either side of the ancient hilltop village of Mayfield, amongst the rolling hills, woodlands and deep-cut ghylls of the Sussex High Weald. They are surrounded by bluebell woods in springtime and over-flown by Buzzards, Red Kites and other hawks in summer. They are an evocation of this unique Sussex countryside at its best.