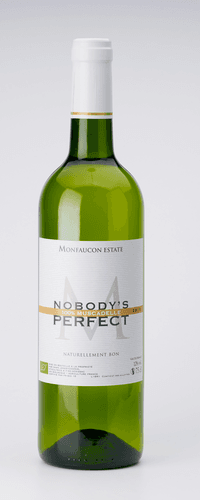 Monfaucon Estate - Nobody's Perfect 100% Muscadelle 2018
| | |
| --- | --- |
| Type | White |
| Grapes | Muscadelle |
| Country/Region | France, Bordeaux |
| Vegan | ✔ |
| Organic | ✔ |
| Vintage | 2018 |
| Alcohol | 11.8% |
Product number: 263693
10% off
£20.00
£18.00
Price per bottle
Pale, lemon colour, clear & bright.
Nose, Lemon, minerality, hints of honeysuckle, white peach and Jasmine.
On the palate crisp refreshing acidity, well balanced with the fruits, candied citrus, white peach & pear, long minerality on the finish-Country.
About the Vineyard
We are an independent producer of organic white wines within the region of Bordeaux, 10 minutes south of St. Emilion, and where our vineyard sits quietly alongside the banks of the river Dordogne.
All our wines are produced from our own hand-picked grapes at Monfaucon, being Muscadelle, Sauvignon Blanc, Semillon & Chardonnay, where we are fastidious about our grape selection, as only the best grapes from each year become our bottled wines. We allow the wild yeasts in the winery to work their magic to produce our end product, thus extracting all the good flavours from the grapes. From the vine to the bottle, all processes are completed within the estate boundaries.
We do not believe in " typicity", preferring each year to produce hand made wines that are naturally good, and free from the restraints of making white wines that taste just like all the others.
We believe that high levels of alcohol can mask the true fruit flavours of the wine so all of our wines are lighter in abv, which makes for a perfect anytime of day wine to be enjoyed, without the after effects of a heavier wine.
We call them our "no hangover" wines.
"The biodynamic principles used in our vineyard create an environment where the grapes are grown in harmony with nature and the biosphere, allowing the terroir to express it's full potential. The same principles are applied in our winery, to deliver a naturally good result. All of our hand-crafted wines are lower in alcohol, to offer a fruit-driven wine that can be enjoyed as an aperitif, at any time of the day, or at the table. We believe that you can taste and enjoy the difference, but then again, Nobody's Perfect."
Awards:
90 Points (Silver) at the Decanter World Wine Awards 2016.