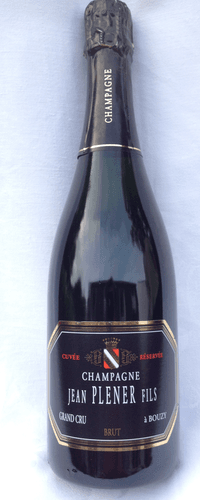 Jean Plener Fils - Brut Reserve Grand Cru Nv Champagne
| | |
| --- | --- |
| Type | Sparkling |
| Grapes | Pinot Noir, Chardonnay |
| Country/Region | France, Champagne |
| Food pairing | Fish |
| Alcohol | 12% |
Product number: 360657
5% off
£180.00
£171.00
Price per bottle: £28.50
Sold in cases of 6 bottles
Estimated delivery date:
Thu 28 - Mon 01 Feb
Eligible for Click & Collect
Dispatched from United Kingdom
Additional ageing enhances the bouquet of brioche, almond and hawthorn.
About the Vineyard
Maude Plener a charming and attractive lady who you could be forgiven for thinking has barely enough time to look after her small children let alone run a vineyard, is the current winemaker at this small enterprise in the engagingly named village of Bouzy. Her father Jean Plener handed her the reins several years ago. Maude has five hectares of vines split into 18 individually named parcels of land on the southfacing slope of the Montagne de Reims. As an RC (Recoltant Cooperateur) she shares the use of the grand pieces of equipment such as a press but beneath her modest sized looking house there are at least four levels dug into the chalk by her forbears where the miracle of secondary fermentation and aging takes place. On January 22 at the annual parade to celebrate St Vincent the patron saint of wine makers, Maude carried the stick for the Bouzy chapter of vignerons up and down the Avenue de Champagne in Epernay and around her village.The physical challenges of working in the fields, pruning, tying in, replacing vines hiring in a gang at harvest time and actually making and blending her wines seem to spur her on to produce golden fruit-laden wine that is full of character and sunshine.