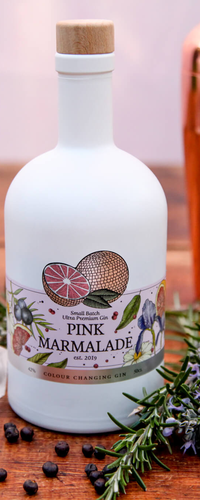 Pink Marmalade Colour Changing Gin
| | |
| --- | --- |
| Type | Spirits, Gin |
| Country/Region | United Kingdom |
| Vegan | ✔ |
| Organic | ✔ |
| Alcohol | 42% |
Product number: 380475
15% off
£38.00
£32.30
Price per bottle
A dry, zesty, unmistakably premium gin - balancing organicbotanicals, with a moment of colour-changing magic.
Traditional small batch distillation meets modern and exciting flavourswith the inclusion of 13 choice botanicals. These range from fiery pinkpeppercorns to soothing chamomile and even salted grapefruit marmalade.
When mixed with tonic, it undergoes a natural colour change fromcool blue to subtle rose pink with thanks to the rather magical ButterflyPea flower.
Were proud to say that our gin is 100% natural, organic, vegan and GF.
About The Producer
Its not everyday that three friends in the events industry are suddenly inspired to craft a small batch colour-changing gin
Pink Marmalade was founded by purveyors of parties, drawn together to create immersive, hedonistic worlds and elevate event production beyond the everyday. When we chanced upon that singular magic of nights that linger long in the memory - we cultivated it, perfected it, and bottled it into exquisite reality.
The gin is an expression of everything we are as event creators - artistic, dedicated to quality - and above all, devoted to bringing people together to share in lifes pleasures in spectacular surroundings.
About Pink Marmalade Gin
Pink marmalade Gin is created using a traditional single-shot method of distillation. A slow and steady burn patiently distills over the course of 12 hours to yield only a tiny volume of the highest quality spirit that we are proud to serve.
The process begins with a secret ingredient, our signature salted pink marmalade. This is then combined with another 12 choice botanicals to create this dry, zesty and ultra-premium gin
Our distilling process is devoted to the highest quality. From the meticulous selection of the spirit, to demineralised water, to the long hours our botanicals spend steeping in the stills - Pink Marmalade Gin was intended from the very beginning to match up to the best in the world.