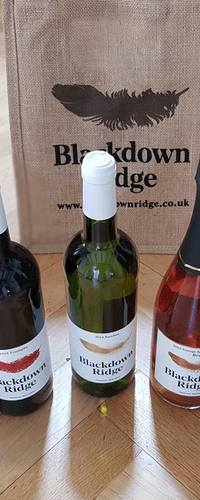 Blackdown Ridge - Mixed Range
| | |
| --- | --- |
| Type | Red, White, Rosé |
| Grapes | Sauvignon Blanc, Bacchus |
| Country/Region | United Kingdom |
Product number: 227493
free
Buy today and get free shipping on this product!
Special offer, including complimentary gift bag with six bottle removable dividers.
<*Please note all our wines contain sulphites
The Bottles
1xChiaro Bacchus 2014
1xTriomphe Red 2015
1x Sauvignon Blanc White 2016
1x Primordia Sparkling 2014
1x Traditional Method Sparkling Rosé 2015
1x Blackdown Ridge wine bag
About the Estate
Blackdown Ridge Estate sits at 440 feet above sea level in the Sussex Weald, enjoying extraordinary views over the South Down National Park. Here we have planted a variety of vines to create fine English wines, taking advantage of the superb location and conditions. The wines of Blackdown Ridge Estate are the result of the vision of owner, Professor Martin Cook, who has lived on the estate for 20 years. A passionate wine-lover, Martin was inspired to create his vineyard when an Italian family friend and winemaker, Antonio, suggested that the beautiful, serene south-facing slopes of Blackdown would be perfect for growing vines. Antonios words inspired Martin to realise the potential of the estate and the first vines were planted in 2010. The soil of the Sussex Weald shares much with the terroir of the Champagne region of France, and this influenced out plantings of the classic sparkling wine varietals: Pinot Noir, Pinot Meunier and Chardonnay. The grapes planted for our range of still wines include the aromatic Bacchus for our single varietal English white wine, as well as Rondo, Triomphe dAlsace and, more recently, Sauvignon Blanc. We have 10.5 acres currently planted to vines which are nurtured throughout the years with an environmentally sensitive approach to viticulture that ensure optimum ripeness, yield and fruit quality.