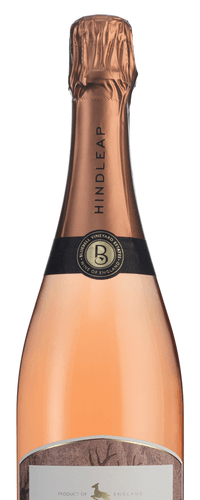 Bluebell Vineyard Estates Hindleap Rosé 2015
| | |
| --- | --- |
| Type | Sparkling |
| Grapes | Pinot Noir, Pinot Meunier |
| Country/Region | United Kingdom, Sussex |
| Food pairing | Meat, Game, Cheese, Cream Based |
| Vintage | 2015 |
| Alcohol | 12% |
Product number: 284092
free
Buy today and get free shipping on this product!
Estimated delivery between Mon 18 and Thu 21 Nov
Eligible for Click & Collect
Dispatched from United Kingdom
The epitome of our fruit-forward style, only the most characterful Pinot Noir and Pinot Meunier base wines are selected for our Rosé.
A blend of Pinot Noir and Pinot Meunier this elegant rosé has delicate aromas of rose petal, wild strawberry and ripe raspberry on the nose underpinned by redcurrant and juicy nectarine notes which give a rounded wine with a creamy finish. Well balanced and with excellent structure it has a dry, delicate and long finish, which makes it ideal as a summer aperitif. It's also a great match for light, creamy cheeses and pairs beautifully with fresh English strawberries.
Winemaking
Pinot Noir: 60%
Pinot Meunier: 40%
Alcohol: 12% vol
Residual Sugar: 5.8 g/l
Total Acidity: 7 g/l
pH: 3.28
Bottled: 06 September 2016
First disgorged: 25 January 2019
Minimum time on lees: 28 months
About the vineyard
Set amidst bluebell-strewn woods from which the vineyard derives its name, Bluebell Vineyard Estates is a family-run vineyard and winery with a passion for producing world class still and sparkling wines.
Established on the site of a former pig farm, the transition from swine to vine began as a hobby: the creation of a fine wine collection, an eye opening visit to Romaneé Conti in France and the belief that truly exceptional wines can be produced in England. The site, once home to thousands of Large Whites, Landrace and Blue Cross Pigs is now home to over 100,000 vines growing premium quality Chardonnay, Pinot Noir, and Pinot Meunier vines along with Seyval Blanc, Bacchus, Ortega, Chasselas and Merlot.
Since our first plantings in 2005, the vineyard has more than doubled in size and we now have nearly 100 acres under-vine stretching across East and West Sussex.