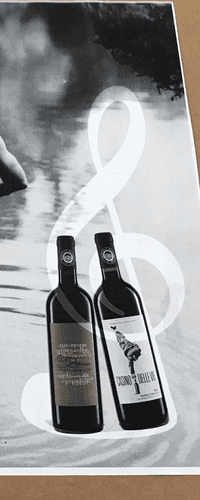 Giftbox Met Lp Best Of Sting En Fles Sister Moon En Casino Del Vie
| | |
| --- | --- |
| Type | Red |
| Grapes | Cabernet Sauvignon, Merlot, Sangiovese |
| Country/Region | Italy |
| Organic | ✔ |
| Vintage | 2013 |
| Alcohol | 14% |
Product number: 219089
Estimated delivery date:
Fri 05 - Wed 10 Jun
Dispatched from Netherlands
How wonderful this is. The LP from Sting together with the 2 top wines from his Wine Estate Il Palagio in Tuscany in a beautiful box. Great to give or receive
Sting, the face and foreman of one of the most legendary bands from the 80s - The Police, needs no introduction. In the meantime, Sting has reached his 25th anniversary this year as a solo artist. 25 Years Sting ... time for a new overview. The compilation The Best Of 25 Years is a beautiful double album with its hits and unique tracks compiled by '' his truly ''. All recordings are remastered from the original master tapes.
This box also contains a bottle of the Sister Moon and Casino Del Vie. The two top models from the Sting wine range
The Sister Moon is the top model from Sting and a real Super Tuscan. It is a blend of 45% Sangiovese, 45% Merlot and 10% Cabernet Sauvignon from a vineyard with a substrate consisting of sand and clay, rich in magnesium and lime. The Sister Moon has been educated for 18 months on new oak. It is a delicious full bodied wine. In the glass, the wine has a beautiful red intense color with beautiful tears on the glass. In the nose, the Sister Moon has beautiful tones with black and blueberry, roasted nuts, incense and cedar. In the mouth the wine is velvety, ripe, rich and meaty with firm but refined tannins. Impressions of cocoa, plum, blackberries, cassis and vanilla. The aftertaste is beautiful The wine has received 93 points from James Suckling and 90 points from Winespectator
Fact: The wine was named after the 1987 hit of sting from the album Nothing Like the Sun.
The Casin del Vie is a typical Tuscan wine with lots of fruit, elegance and finesse. It is a blend of 95% sangiovese and for the remaining 5% cabernet sauvignon, cabernet franc and merlot which has been raised for 12 months in used wooden barrels and then has 6 months rest / bottle maturation in the bottle. The Casino del Vie is a delicious and unique full-red wine with an intense color. It is really a typical Tuscan wine with lots of fruit, elegance and finesse. The wine has a lot of length and nice tannins. The wine is certified organic.
1. If You Love Somebody Set Them Free
2. Englishman in New York
3. We'll Be Together
4. Fragile
5. All This Time
6. If I Ever Lose My Faith In You
7. Fields Of Gold
8. Desert rose
9. Whenever I Say Your Name
10. Never Coming Home
11. Message In A Bottle
12. Demolition Man
13. Heavy Cloud No Rain