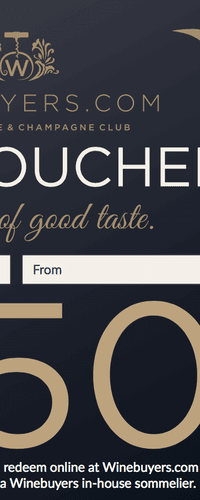 Winebuyers Gift Voucher £50
Product number: 180340
free
Buy today and get free shipping on this product!
Estimated delivery date:
Fri 05 - Wed 10 Jun
Dispatched from United Kingdom
This gift voucher entitles the receiver to £50 to redeem online at Winebuyers.com
How do you gift the perfect bottle of wine? Keep it simple with a gift voucher.
Our gift vouchers come with a free personal consultation with a Winebuyers in-house sommelier.
Treat your friends and family to a unique experience as they discuss their tastes and preferences a Winebuyers wine experts who can help them choose the right wine.
Wine connoisseur or not, with 30,000 bottles to choose from, give your friends and family the gift of choice and discovery. Life's too short to drink bad wine..

How to redeem your Gift Voucher

A voucher code for the value of your purchase will be emailed to you with beautifully designed e-vouchers for you to print at home or send digitally. E-vouchers are available in both colour and black and white.