As the days get longer and warmer, it's time to leave the hearty comfort food of winter behind and look forward to some lighter meals. The abundance of fresh produce at this time of year, plus the added excitement of some al fresco dining, means it's time to experiment with new food and wine pairings. Here are some ideas to help you nail your food and wine matches this summer.
Courgette risotto and Gavi
Courgettes are in plentiful supply in the summer months and are a surprisingly versatile ingredient. You can chargrill them, pickle them, add them raw to salads or make them into courgetti (like spaghetti!) for a low carb alternative. They also work well when added to a summery risotto. If you're going for a lighter risotto, such as courgette or even asparagus , a crisp, dry Gavi complements it perfectly. Made from Piedmont's finest white grape, Cortese, a chilled Gavi has the right level of acidity to cut through the creaminess without overpowering the delicate flavours.
Salade niçoise and Provence Rosé
A salad niçoise is full of flavour and texture, and traditionally consists of green beans, potatoes, tuna, hard-boiled eggs, Niçoise olives and anchovies-although you will find many variations on this. You don't want a wine that is too heavy, as this will overpower the dish, likewise, a tannic wine will accentuate the saltiness. We find that a dry rosé, for example from Provence, is a great pairing, with its light flavour and moderate acidity. Provence rosés also have bags of lively summer fruit flavour which partners perfectly with a fresh salad.
Burgers and Malbec
We need very little encouragement to get the barbecue out in the UK. As soon as the sun appears, we're lighting the charcoal. These days we're a bit more adventurous, throwing on fish, chicken and veggie options, but a traditional barbecue nearly always features a good old burger.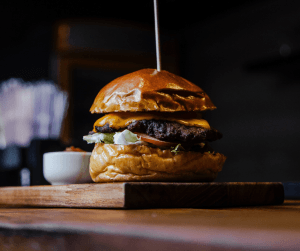 You really want a bold, rich red to stand up to the big flavours, particularly if you're adding extra toppings like cheese and onions. A fruity Malbec is a great match, having the depth of flavour and body to match a meaty burger, but also the complexity and touch of spice to not be overwhelmed by the extra garnishes.
Goats' cheese salad and Loire Sauvignon
One tip to help you pick the perfect food and wine match, is to copy the locals-they usually know what they're doing! For example, a hearty southern French red goes perfectly with a cassoulet from the region, or seafood with an Albariño from the north west coast of Spain. One of the best examples is the classic match of goats cheese and Loire Sauvignon. In fact, did you know that Chavignol in Sancerre has its own appellation for both wine and cheese? This cheese can be strong in flavour, so you need a wine with aromatic yet fresh flavours. The flinty Sauvignons of the Loire Valley perfectly cut through the creamy richness of goats' cheese with their racy acidity and zesty flavours.




Goats cheese and Loire Sauvignon: a classic match!
Grilled sardines and Vinho Verde
Fresh grilled sardines are a real treat in the summer, especially when they're cooked on the barbecue and the skin chars a little. Packed full of flavour and rich in omega 3 fatty acids, they make a delicious and healthy summer meal. For a good wine match, look for a crisp, dry white, for example, a Picpoul de Pinet or Muscadet are excellent options from the French coast. However, another pairing that works brilliantly, is a Portuguese Vinho Verde. The name literally translates as 'green wine' and is one of the quintessential summer white wines. Made from local varieties, the grapes are picked early producing a wine with crisp acidity, low alcohol and a slight 'petillance' or spritz to it. The fresh flavours and light body perfectly complement the rich, oily texture of the sardines.
Strawberries and Prosecco
Is there anything that says British summer more than a bowl of ripe, juicy strawberries and cream? It might seem like a tricky wine match, but there are actually quite a few successful pairings for strawberries.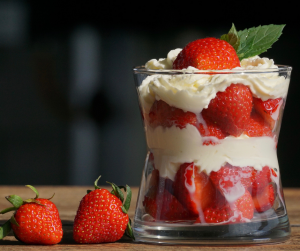 You could take a leaf out of our Gallic neighbours' book and try macerating your strawberries in a youthful, fruity Beaujolais, or if you prefer a more traditional serving style, why not try a pairing with a sparkling wine. A slightly sweeter style, such as Moscato d'Asti or Extra Dry Prosecco (which is actually sweeter than Brut, despite its name-you've got to love the eccentricity of the Italians) are great matches as the sweetness matches perfectly with ripe, sweet strawberries.

If you're now full of inspiration and looking for the perfect wines to match to your favourite summer dishes, why not explore our wine collection and try something new.