As we breeze into summer, salads become the deliciously refreshing meal to enjoy alfresco. But matching wine with salad can be a tricky pairing, even from a sommelier point of view. So what are the wines which will make the most of your salads? Here's a few of our best suggestions to help.

Tabbouleh with dry Riesling

© Gabrielle Pellerin
This herb-based salad from the Middle East is an absolute treat and amazingly healthy. Finely chop some fresh parsley (or mint if you prefer), baby tomatoes and spring onions. Add a handful of sultanas and mix it all together with olive oil, freshly pressed lemon juice and bulgur wheat - et voilà!
Our best wine companion here is a dry Riesling. With its light to medium body and fresh acid bite, Riesling is indeed one of the rare wines that you can easily pair with super fresh salads like tabbouleh.
For a dry Riesling a great place to start is Germany, Riesling's homeland. For the driest styles look out for Trocken, literally 'dry' in German. From there, cross the border into Alsace, France where Riesling is regarded as the noblest variety and offers some outstanding dry wines. Alternatively, if you'd like to try a Riesling from the New World, Australia is the place to look. Clare Valley or Eden Valley in the South, where vineyards benefit from high altitude, tend to produce the country's best dry Rieslings.

Salad Niçoise with Provence rosé

© Dean Schmideg
A French classic from the Mediteranean coast, Salad Niçoise is another easy-to-make meal which tastes deliciously refreshing. It traditionally consists of a combination of green beans, new potatoes, tuna, hard-boiled eggs, olives and anchovies.
Salad Niçoise is full of flavour and texture so you'd be aiming at a wine which is equally generous but not overpowering. The colour of choice here is pink and if the wine comes from the South of France it's an extra bonus. Lean and clean with bags of lively summer fruit flavours, a dry Côte de Provence is the perfect pairing.

Goats' cheese salad with Loire Sauvignon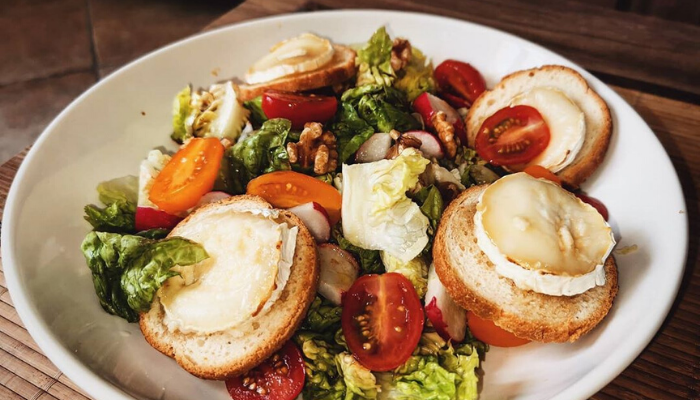 © Claire Makeupandco
Another French salad... but who can blame us? This dish is a piece of cake - or more precisely a piece of toast topped with scrumptiously creamy warm goat cheese and served on a bed of green salad.
For full marks use the delicious Crottin de Chavignol from the Loire region. Soft and crumbly, with subtle nutty flavours, this cheese calls for an aromatic yet refreshing wine. The flinty Sauvignons of the Loire Valley are perfect for cutting through the creamy richness of goats cheese with their racy acidity and zesty flavours. Naturally, a Sancerre is la crème de la crème for this goats' cheese salad.
Do you want more salad and wine pairing suggestions? Put a request in the comments section below and we'll be happy to help. In the meantime, get inspired and start browsing our amazing selection of wines from all around the world.