If you like your white wine chilled, dry and as crisp as they come, chances are you're quite partial to a glass of Chablis. But just how much do you know about this famous French wine? Well, let us start from the beginning and we'll tell you everything you need to know about this elegant and enchanting wine.

The terroir of Chablis
Chablis is part of the region of Burgundy, arguably home to some of the world's greatest wines. Predominantly, the white wines of Burgundy, or "Bourgogne" as it's known in French, are made from the Chardonnay grape, while the reds are mostly produced from Pinot Noir.
You may be thinking, 'if Chablis is made from Chardonnay, why doesn't it taste anything like other Chardonnays I've had?' Well, that is all down to the unique climate and local terroir, which produce the distinctive flinty, sometimes steely character of the wines. Also, unlike other Chardonnay producers, most Chablis wineries avoid or limit oak ageing to preserve the natural delicacy of the grape flavours. This means that Chablis is often described as one of the purest forms of Chardonnay in the world.
While part of Burgundy, Chablis is a little bit of an outlier with 100km separating it from the region's main winemaking town of Beaune. Situated to the north, it is actually closer to southernmost reaches of Champagne and shares similarities with its illustrious neighbour.
Like Champagne, it has a cool, continental climate, with cold winters and hot summers. Spring frost can also be a challenge, even as late as April or May. This produces grapes with high levels of acidity, giving Chablis the lip-smackingly crisp finish for which it is renowned.
The quality of the soil also plays a key role in Chablis. Like Champagne and some parts of the Loire Valley, it's made up of Kimmeridgian soil, a unique layer of clay and dark limestone with marine sediments. The quality of vineyards set on these soils is well-established and it produces wines with a distinctive mineral, flinty character. Often likened to licking a pebble or wet stone, minerality is without a doubt the standout feature of the wines of Chablis.


The classification system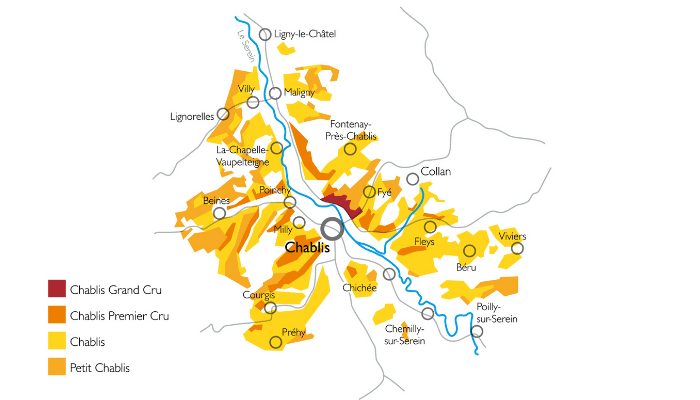 © Chablis.fr
Now you know what Chablis is, but how do you go about choosing the right bottle for you?
Burgundy has a unique classification system, with the vineyards being rated in terms of their potential to make great wine (unlike in Bordeaux, where individual châteaux are classified).
In Chablis there are four quality levels: Petit Chablis, Chablis, Premier Cru and Grand Cru.

Petit Chablis
The Petit Chablis region is made up of a selection of outlying areas with Portlandian limestone, which contains less marine sediment. The vines here tend to get less sun than the higher quality wines of Chablis AOC. Often thought of as a poor man's Chablis, Petit Chablis is in fact a great introduction to the wines of the region, offering lighter, fruitier wines that are easier drinking than other Burgundian whites.


Chablis
Chablis AOC is the largest area, accounting for over two thirds of total Chablis production. The vines are planted on the renowned Kimmeridgian clay and are better situated to get more sun exposure. These wines are fuller and have more complexity than Petit Chablis, but still hold true to the region's predominantly unoaked approach.


Chablis Premier Cru
The forty Premier Cru vineyards are situated on Kimmeridgian clay, but are also on steeper slopes, which are mostly south-east facing. This means that the grapes reach greater levels of ripeness (very important in a cool region!) and are better quality. Premier Cru Chablis can sometimes see a little bit of oak contact, although it is still usually fermented in stainless steel. It is fuller bodied, full of complexity and has that quintessential minerality.


Chablis Grand Cru

Grand Cru Chablis accounts for just 1-2% of production, with the seven vineyards all on south-west facing slopes looking over the town of Chablis. Here, where the slopes are steepest, you can see the Kimmeridgian clay soil on the surface. This rich soil adds extra depth to the wines, which are notably age-worthy. In fact, many don't reach their peak for several years.



Chablis with food
Chablis is famously food-friendly, and complements a range of dishes. The simplest Petit Chablis and young Chablis are great with simple seafood dishes, such as oysters, where their crisp acidity cuts through the food's salinity.
Premier Cru Chablis has the intensity to stand up to stronger flavours, such as grilled or poached fish, especially with creamy sauces, such as fish pie. It also has the body and structure to pair with goats cheese or softer cheeses like Brie.
The best and richest styles of Chablis, such as Grand Cru or the best Premiers Crus, are able to stand up to full-flavoured and luxurious dishes, such as lobster, scallops and even lighter meats like veal or chicken.


So now you know why Chablis is so revered, why not explore this fascinating region with our selection of over 250 wine.