The last couple of years has seen a trickle of wines arriving into the UK from a country that many people have hardly heard of and even fewer know its location.
Armenia.
This week, we speak to Charles Masraff, Armenian wine expert, about the soaring global interest in Armenian wines.
Where is Armenia?
Armenia is in the Caucasus. The Caucasus is a region located between Eastern Europe and Western Asia, situated between the Black Sea and the Caspian Sea.
Armenia itself is a small landlocked enclave no bigger than Scotland with Georgia to the north, Iran to the south, Turkey to the west and Azerbaijan to the east.
It is one of the oldest countries in the world with a recorded history of some 3500 years.
What about wine?
Armenia has been making wine for more than six thousand years.
In 2011, researchers discovered the oldest winemaking facility in the world in the Areni cave in the Vayots d'Or region of modern Armenia, dating back to around 4100 BC. And you thought wine drinking was a modern day phenomenon!
Areni Cave - the oldest 'winemaking facility'
Armenian viniculture has been disrupted throughout history. During Soviet times the government asked Armenian winemakers to shift production toward cognac instead of table wines.
Since independence in 1991 the Armenian wine industry has been undergoing a renaissance with the arrival of diasporan money and experience helping to regenerate and reequip old wineries and create new ones in Armenia's favourable terrain.
Why is Armenia so great for wine-making?
The recent excitement and fast developing worldwide interest in Armenian wine is essentially the result of the unique grape varietals indigenous to Armenia and the country's exceptional terroir, altitude and climate.
What are the grapes?
Armenian grape varietals, like Areni, Voskehat, Kangun and Sireni (or Khndoghni as it used to be called), are still relatively unknown outside of the region.
Indigenous to the area and distinct from both the European Old World and New World varietals, these grapes, as Vahe Keushguerian, one of the leaders of Armenia's wine resurgence puts it, "would perplex a wine professional." "Their flavor profile is different from what you're used to—not too different, but distinct. The sensation is different."
Areni
Areni is sometimes called the Armenian Pinot Noir. Though it has similar characteristics, it is somewhat lighter in body and colour but still has excellent density and intensity of flavour. The Koor Red part Areni/part Sireni goes very well with meats, cheeses and pasta dishes.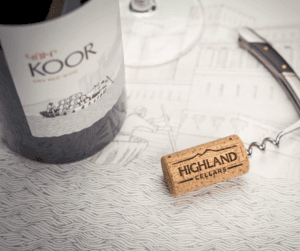 Photo credit: Koor wines Voskehat
Voskehat is the principal Armenian white grape varietal. It produces a wide array of aromatic bouquets varying a little from year to year. The Koor White is typical with plenty of fruit(mango and pineapple) yet well balanced with acidity and pairs well with starters, seafoods and desserts.
Kangun
Kangun also benefits from the elevated terrain and produces a significant level of acidity that works really well with sparkling wines (Karas Sparkling) and perfectly balances the Chardonnay in the Karas White which works well with shellfish, vegetarian dishes and fruit desserts.
Sireni
Sireni or Khndoghni is an ancient, indigenous and rare red grape variety prevalent in the Karas Red which goes well with all meat dishes. The grape grows well in the soft climate of Artsakh region and produces the strong and unusual dry red wine, rich in tannins, full and with excellent taste that is Kataro.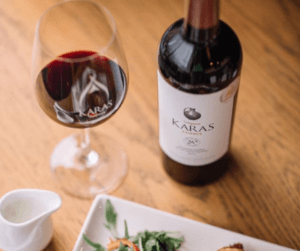 Photo credit: Karas wines
The Kataro Red wines are both really good with red meats, barbecues and game of all kinds. For heaven on earth try a roast grouse, partridge or some venison with Kataro!
And what is the result?
Recently Armenian wines have started to win awards world wide with this year 23 medals at Mundus Vini in Germany and 10 awards from Decanter magazine.
So the future is really exciting with so many different varietals , so much exciting terroir and so many small vineyards beginning to receive the help and expertise they need.
But don't take my word for it --- go on and try a bottle or two. If like me you spend much of the day looking forward to the wine you are going to have for dinner it is time to expand your repertoire and experience.
Guest blog by Charles Masraff, Armenian Wine Expert About Charles Masraff
"I have spent most of life in the restaurant trade. But my father was Armenian and I spent 5 years living in Armenia (2006-2011), running a restaurant there and nearly buying a winery! Most importantly there has been a huge improvement in the wine industry in the last few years and it is so encouraging to see the rural economy starting to emerge from its dependence on Russia as it begins to produce some truly wonderful value added products such as its excellent wine!"