You love a cocktail? So do we. Add a zest of something cool or spicy to your life and top up your summer with our ten fresh or fruity cocktails.


Real Raspberry & Cardamom Infused Gin - Signature Serve


The savoury, spiced flavour Sir Robin of Locksley's flagship gin are enhanced in this signature serve. Simply add gin, ice and raspberries to a balloon glass and top with tonic. Garnish with a sprig of mint and enjoy.
Ingredients
30ml Locksley Distilling Co. Real Raspberry & Cardamom Infused Gin
150ml Cucumber tonic water
Fresh raspberries
Sprig of mint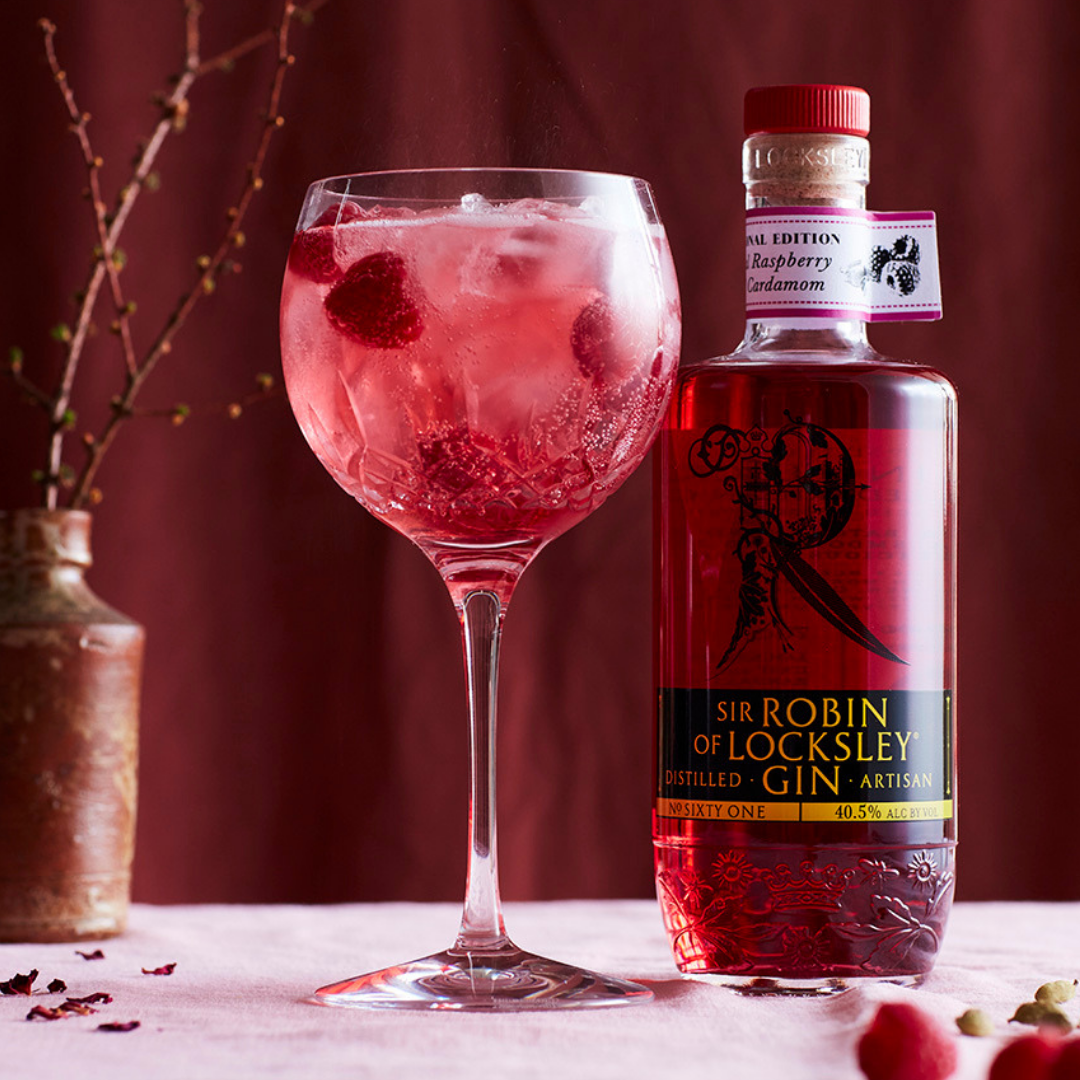 Brentingby Gin - Brentingby Spritz



Rooibos-flavoured pink gin and freshly squeezed orange juice add a sweet and zesty twist to the popular summer cocktail. Simply combine all ingredients into a large wine glass, add ice cubes and lightly stir.



Ingredients


30ml

Brentingby Pink Gin


20ml Aperol


20ml Freshly squeezed orange juice




75ml Prosecco


Garnish with a fresh wedge of orange.





Chase Distillery - Rhubarb & Apple Rickey

Simply combine all of the ingredients over cubed ice and stir well. Garnish with a thinly sliced apple fan.

Ingredients
50ml Chase Rhubarb & Bramley Apple Gin
20ml Lemon Juice
10ml Sugar Syrup
Top with soda




Elemental Cornish Gin - Very Berry Crush
British summertime in a glass. Raspberry gin muddled with fresh blackberries and mint make this a refreshing cocktail to keep crafting.
Gently muddle blackberries, lime juice, sugar and mint leaves in a glass. Add Raspberry Elemental Cornish Gin and finish with ice and soda. Stir well and serve

Ingredients
25ml Raspberry Elemental Cornish Gin
5 Blackberries
1 tbsp Lime juice
1 tsp Sugar
4 Mint leaves
100ml Soda water







Kenton Park - The English 75
Discover Ben's signature cocktail. Ben is Kenton Park Estate's Manager as well as a qualified Cocktail Bartender - trained in the European Bar School, Miami.



Ingredients
50ml Gin
1 tbsp Fresh lemon juice
1 tsp Sugar Syrup
Motley Cru Classic Cuvée to fill Garnish with lemon zest.


Gordon Castle - The Perfect Serve
Creating the perfect gin and tonic is easy. Simply add the Gordon Castle Gin to a chilled highball glass with ice. Add the tonic water to taste, stir once and then add your lemon, lime and mint to garnish, leaving you with a deliciously crisp, fresh drink.



Ingredients
50ml Gordon Castle Gin
1 Slice of lemon
1 Slice of lime
Fresh mint
150ml Premium tonic water






Liquid Intellect - Pi
ña Colada Punch
This is an easy one. How about you just pour yourself a delicious Pina Colada punch? Liquid Intellect has reinvented a holiday classic and given it a make over by producing a coconut milk punch.
They clarified the pineapple and coconut classic to remove the creamy feel and made it a lighter drink you can sip all night long. That will change the way you'll drink Piña Coladas forever.

Ingredients
Piña Colada Punch
4 Ice cubes






Nicholson Gin - Gloom Raiser Cocktail
This classic cocktail featured in The Savoy Cocktail Book and Harry's ABC back in the 1930's and demanded only Nicholson Gin. The raspberry syrup is a fresher alternative.
Ingredients
50ml Nicholson Original Gin
15ml Dry French Vermouth 2 dots absinthe
5ml Raspberry syrup
Garnish with a lemon twist






Tyree Gin - We Still Have Thyme
This is Tyree Gin's celebration cocktail - created by the Mixology Brothers.

Ingredients
50ml of Tyree Gin
20ml of Lemon Juice
10ml of Thyme infused Syrup
2 drops of Angostura bitters
Shake and strain over fresh ice.
Top with Topo Chico Sparkling Water and garnish with fresh thyme.






Arbikie - Strawberry Vodka
Pour all ingredients apart from red wine starting with egg white. Seal it well and dry-shake vigorously then add ice and shake again. Double strain over cubed ice into whisky glass.
Pour red wine slowly on the top. Garnish with lemon peel and dash of Peychaud's.

Ingredients
40ml Arbikie Strawberry Vodka
10ml Arbikie Kirsty's Gin
20ml lemon juice
10ml egg white
1 dash Peychaud's Bitters
Float of red wine

Pair with a rich dark chocolate soufflé.




With a tantalising choice of spirit flavours available, from refreshing rhubarb to spiced cardamom, delicious cocktail possibilities are endless. Discover hand-crafted British spirits at Winebuyers.com - delivered direct from the distillery to your doorstep.